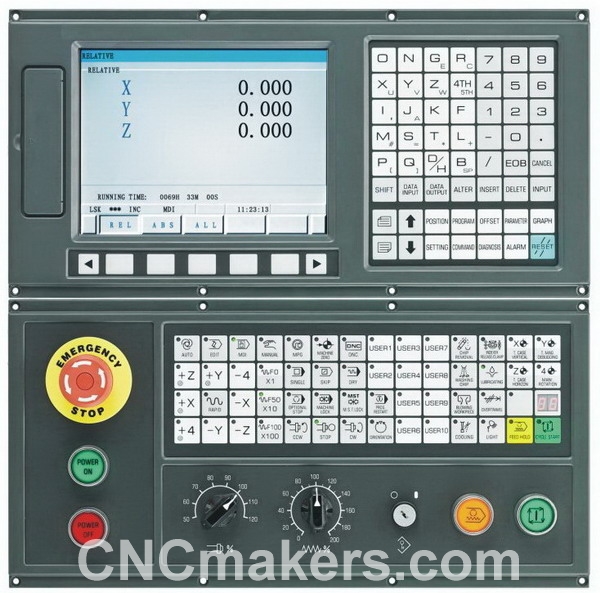 User:
We have GSK983Ta-H and GSK983Ma-H-4R, could you tell us where can we get the PMC programmer?
CNCmakers Support:
Here it is.
User:
Thanks, the programmer worked ok.
I downloaded lathe PLC onto udisk but can't open it because it is a compiled file ".ldr". I would need the 4 un-compiled source files ".ldd, .alm, .def, and .dgn
If you could send me those files for my lathe ( TaPLCV2.01AB ) and the recent mill controller I bought, that would be very helpful.
CNCmakers Support:
The Ta PLC files is inside the 983Ta-H and 983Ma-H-4R controller.
1-Please press the "SHIFT" key and DO NOT release, and turn on the power of the controller.
2-The system will enter administration page.
3-You can select the level 2 user, the password is
4-Then you can see the system PLC option, select it and enter.
Follow the step then you could download the PLC files from the CNC by an U-disk.
User:
I did get the PLC copied to the u-disk. There is only the ".LDR" file. The PMC ladder software will not open the file because it is the compiled file. I need the source files which are used to create the compiled file.
I need:
TaPLCV2.01AB.ALM
TaPLCV2.01AB.DEF
TaPLCV2.01AB.DGN
TaPLCV2.01AB.LDD
They are not in the control.
Also, there are more than one PLC file in the control. I looks like there are two versions of the same PLC file and one test PLC file. Should there only be one file? Can I remove the extra files? ( See attached picture )
CNCmakers Support:
When you try to open the LDR file with the PMC ladder software, you need to select the file type "LDR" , in the lower right.

Then you will below files after it is opened.
TaPLCV2.01AB.ALM
TaPLCV2.01AB.DEF
TaPLCV2.01AB.DGN
TaPLCV2.01AB.LDD

The PLC in your attached photo can not be deleted.